Dating as Scarlett Johansson
Last Update : March 3, 2017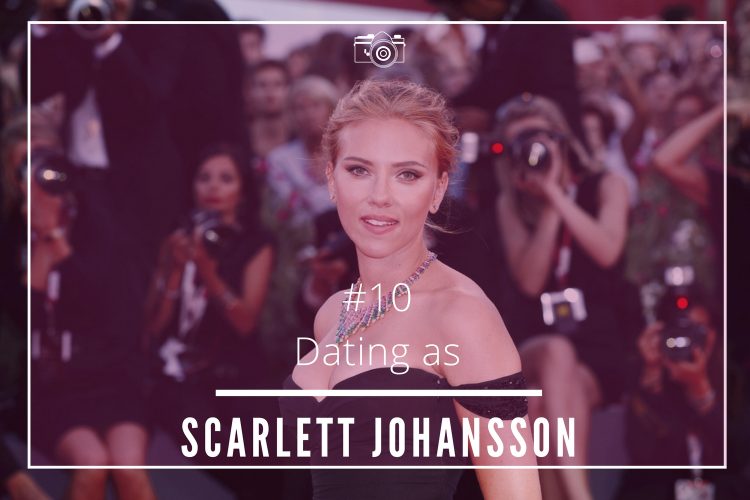 There is the widespread conception that men only seek women who look perfect all the time, but in fact it is just the opposite.
Most men love women who are not afraid to show their natural beauty.
A lot of celebrities have undergone makeover treatments, some even go under the knife, to look (supposedly) astonishing, but very often you see that for some the procedure does not work according to plan and they end up looking somehow undesirable.
One of the stars that during many years has been praised by fashion experts and audience for her classic beauty and natural elegance is Scarlett Johansson.
How the dating scene appears to be when you are a secure and explosive woman who does not care about meeting certain contemporary beauty standards like The "Lost in Translation" star?
Dating as a woman who is comfortable in her own skin
It is true that physical appearance it is important when it comes to dating. Your look is the first thing other daters would notice about you.
Then, it comes your charm, your intelligence, your personality and your sense of humour. It is a whole package.
This is why it is primordial to take care about looking good for yourself and also for your potential partner, but without becoming obsessive with it.
The ideal is to potentiate your best traits, including your attractiveness, regardless society standards.
There is nothing more appealing to single men that a woman who is proud of what makes her unique.
Johansson is, in fact, one of these women who have become a global sex symbol precisely because of this. She has become like an entity due to her roles, but also due to her curves, her natural beauty, something that is very rare in Hollywood.
Dating an independent woman who tends to fall brilliant men
There are certain types of men that woman simply cannot resist. There is the rebel guy, the artistic one or the business professional, for example.
However, every woman has her own idea of the perfect partner and, in spite people say opposites attract, very often couples are quite similar.
Independent, intense, confident and multi-talented women like Johansson usually are attracted to like-minded men.
The "Ghost in the Shell" actress is currently married to the French journalist Romain Dauriac and the pair have a two-year-old daughter.
But, in the past she was married to the fellow actor Ryan Reynolds and dated other multi-talented men like Justin Timberlake, Jared Leto, Sean Penn, Benicio del Toro, Jude Law, Josh Hartnett or Patrick Wilson.
Finding the perfect match takes time and patience. However, taking Johansson's dating history as a reference, if you are clear with your romantic preferences and confident with yourself, with your flairs and your flaws, you would undoubtedly find your significant other when less expected. All you need to do is to be yourself!
*Photo by Andrea Raffin / Shutterstock.com.