Dating as Jon Bon Jovi
Last Update : March 3, 2017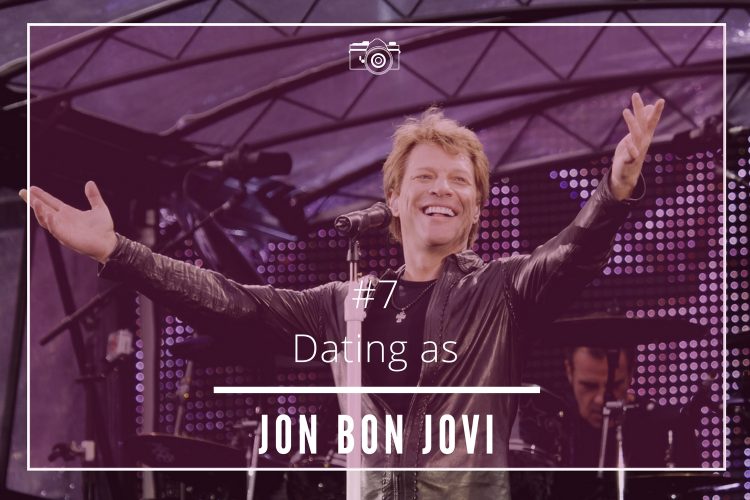 Rock legends are meant to live on the edge. It often seems that the only rules they follow are the ones based on the old-school motto: sex, drugs, and rock'n'roll, and this is applied when it comes to their dating history as well.
Most of them could write a best-seller (some of them have already done it) that contains all the explicit, and eccentric stories about their long list of groupies they had, and whose names probably do not even remember, but finding true love in such a crazy world, can be a real challenge.
However, there always are some exceptions. Singer, and songwriter, Jon Bon Jovi, is one of these artists that, in spite the temptations, skipped this kind of extreme lifestyle, and ended up marrying his high school sweetheart, Dorothea Hurley, in 1989, and they have been an item since then.
There was, though, a love triangle involving the actress Diane Lane, his girlfriend in the mid-80s. Lane was getting closer to Bon Jovi's guitarist, Richie Sambora, and the singer ended up dumping her. The experience then was a good excuse to write one of the band's biggest hits: You Give Love a Bad Name.
Since its marriage, the singer's romantic life has become highly private. How would it be dating a celebrity like Jon Bon Jovi?
Dating a multifaceted artist
It is said that men cannot do more than one unrelated thing at the same time. It is true that some men love to focus on one particular task (or even a hobby), and when the objective is accomplished, then they go to the next one. But, others enjoy engaging on several things simultaneously.
The amazing aspect about dating a multifaceted guy is that he is versatile, and methodical, knows how schedule his own agenda, and is capable to manage his business, and give priorities the attention they need. Of course, they know that time is valuable, therefore they tend to be more attentive when it comes to romance, and keeping the flame alive.
Jon Bon Jovi is known worldwide for being Bon Jovi´s frontman, a music icon, and one of the hottest rockers out there. He was named as one of the 50 Most Beautiful People in the World in 1996 by People Magazine, and one of the most influential musicians in the rock history by Billboard in 2012.
But he is also one of these multifaceted men that many single women aspire to date. He is a record producer, an actor -he has made his appearance in several films, and TV shows like "Sex and the City" or "30 Rock"- and he also is an altruist person, and political activist.
Dating a philanthropist, and an activist
The music industry can be absorbing. Artists spend hours, and hours dedicating their body, and soul to what it seems to be not only their way of life, but also their main passion.
Nevertheless, artists like Jon Bon Jovi love to assign some of their time to make the world a better place.
Single women usually look for a partner who has a sense of humour, is confident, and intellectually compatible, and someone who shares the same life values. Another desired trait is generosity. Men who show they care about the well-being of others, especially those in need, are more attractive to women.
Jon Bon Jovi fits the description perfectly. When he is not on the road, recording a new album or being devoted to his family, he is dedicating some time to charitable works. In fact, in 2006, he created a foundation which is aimed to help families in economic difficulties.
He, as a Democrat, has supported some candidates from the Democratic Party, and has added his voice to raise awareness about some political issues.
Having a relationship with a man like Jon Bon Jovi, who has the rock'n'roll way of life tattooed all over his body, and running through his veins, may be challenging, but if he madly falls in love with you, for sure you will end up laying on a "bed of roses", and embarking on a romantic adventure of a lifetime.