Dating as Norman Reedus
Last Update : March 3, 2017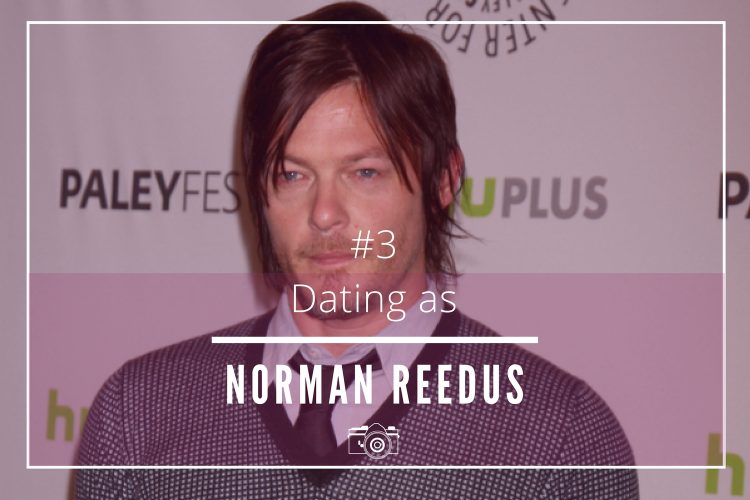 Undoubtedly, there is something appealing about artistic men. Some may not be very keen to express face-to-face their emotions when they fall in love with a woman, but it is kind of romantic to see how their feelings are portrayed on a painting or a sculpture.
In spite, not having a bohemian appearance or attitude, one of the celebrities that represents, in his own personal way, that kind of artistic character is the actor, Norman Reedus.
Having a date with a wild artist
The American actor is currently known worldwide thanks to his role as a vigilante fighting crime in the movie "The Boondock Saints", for being Judas in Lady Gaga's famous video for the homonymous song, and in particular to the character, Daryl Dixon, a zombie hunter especially created (this character does not appear on the comic books) for the TV horror drama, "The Walking Dead".
Due to these particular roles, he may be perceived as a distant guy who has difficulties to show his emotions to others. However, in reality is just the opposite. He, in fact, is more like a wild artist.
When it comes to dating, single women tend to get attracted by men who have are, in a way, unpredictable, impulsive, and sensitive. Dating a guy like him can have many advantages as it is easy to get his emotions, you can become his source of inspirations, and you may even discover new places, due to his nomadic lifestyle.
Surprisingly, these traits define Reedus. He is a motorcycle enthusiast, so he loves to hit the road (in the past, before becoming an actor, and model, he worked for Harley Davidson), and in his spare time he loves to bring out his artistic side.
In the past, he has donated (and currently is doing so too) some of his artworks as painter, sculptor, photographer, and video artist to raise money to help find a cure for some rare diseases like, for example, dystonia, a neurological movement disorder.
Having a date with distant hunter
On the other side of the spectrum is Reedus's character Daryl Dixon. Being on a date with someone like Dixon can be a whole experience, and not necessarily a great one.
Probably, the traits that women desire to find most on men are maturity, experience, and affection, and except his long history praising the team spirit by trying to survive, alongside his mates, the walking dead, Dixon has not much to offer in the romance field.
In fact, he can behave reluctantly when some emotional support is offered. The good aspect is that, by dating someone like him, you could end up finding a trustful friend, and a man who knows how get over the adversity, so in the end, it may not be a bad idea to try it!