Pasta with almond, basil and pecorino pesto for a boosting date
Last Update : March 3, 2017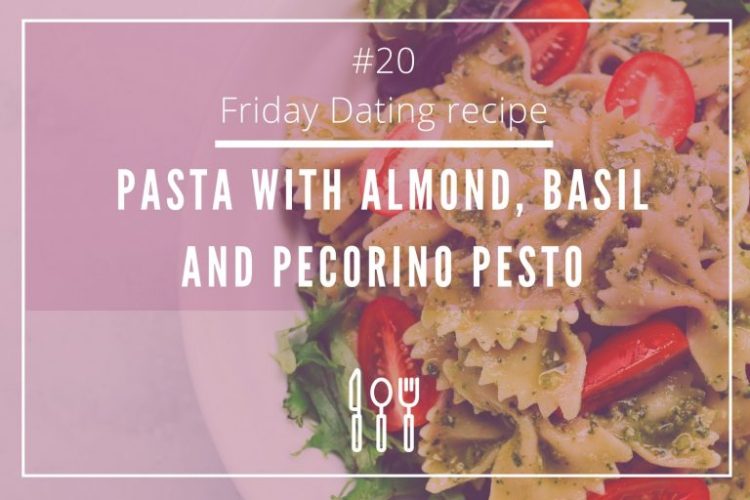 Almonds, an ancient symbol of romance and love
Almonds are considered an one of the oldest food aphrodisiac. A great symbo of fertility, romance and love.
It turns out that almonds are not only very tasty but they are also very healthy. Its high levels of omega-3 fats, an essential fatty acid for the production of hormones, might be one of the best hidden secrets to prepare a libido boosting meal.
Added to that the smell of almonds have been praised for its alluring scent…we highly encourage to try with your partner almonds oils for romantic massages!
A recipe for an alluring date
This simple recipe will only take 30 minutes to prepare but it will definitely impress your date.
A colourful recipe filled with flavours. The almonds, the star ingredient won't dissapoint you…it might even help you seduce your partner!
Plus if you want to be romantic and treat your partner homemade pesto is always one of the best choices!
Ingredients
30g of almonds
2og of basil
2 garlic cloves, finely chopped
100g cherry tomatoes, cut in half
30g pecorino cheese (grated)
3 turns black peppermill
200g spaghetti
Salt and pepper
Preparation
Start by preparing a pan with boiled water to blanch the almonds. Leave them only for a few minutes and drain them and peel them.
Once they are peeled, toast them in a frying pan over medium heat. Make sure you don't let them burn by moving them. Once they hace reached a golden colour they will be ready.
With the help of a blender or a food processor, blend the almonds, add the basil and the garlic.
Once they are well mixed, tip them into a bowl and add te tomatoes, the cheese and the oil. Season it.
Finally cook the pasta and garnish the dish with basil and pecorino cheese.
Bon appétit!