Spinach, mushroom and ricotta quiche with sautéed spinach
Last Update : March 3, 2017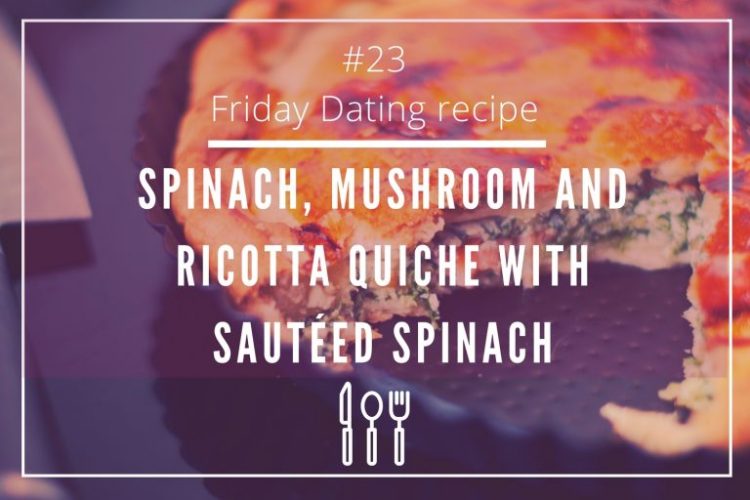 Spinach: for a strong heart full of romanticism
Spinach contains high levels of zinc, a veryimportant mineral that is considered essential in the prodcution of testosterone for both men and women.
Added to that, spinach also contains B6 and folic acid which are the essential elements that help boost sex hormones and sex drive.
Throughout history spinach has been considered to boost libido and increase fertility so it was usually used in love potions.
However we can't forget that within popular culture, Spinach has also been a symbol of power and energy, let's not forget how strong Popeye would become!
Spinach is a great ally to help you feel energised, healthy and ready for action… specially romantic action.
A recipe for a great and energetic date
This nice recipe will only take you 1h30 to cook it will however have great results. If you are looking to start your date with a dinner and continuing the date with some other activity, we recommend you specially this recipe as it will boost your mood and energy. A vegetarian recipe perfect for a nice and romantic date!
Ingredients
Ingredients for the quiche
butter, for greasing
150g ready-made shortcrust pastry
150g mushrooms
thyme
1 tbsp olive oil
150g baby spinach leaves
100g ricotta cheese
2 free-range egg yolks
100g  double cream
salt and black pepper
Ingredients for the spinach sautée
10g butter
1 garlic clove, lightly crushed
250g baby spinach leaves
salt and black pepper
Preparation
Prepare the open by heating it at 200C/400F.
On a baking tray, place the mushrooms and sprinkle some thyme, 1/2 spoon of olive oil and season it. Bake it for 5 to 6 minutes until the mushrooms soften.
In a frying pan with 1/2 a tablespoon of olive oil, fry the spinachs and cover them with a lid until they wilt.  Once cooked remove them from the pan and drain them. Season the spinach.
On a separate bowl, place the ricotta cheese and season it adding dome grainy mustard. Mix it well.
On a tart case, spoon in the ricotta mixture on the base and top it up with the wilted spinach. On top of it place the roasted mushrooms.
On the side place the egg yolks and the cream in a bowl and mix it together. Add it to the tart case.
Let it bake in the oven for 40 minutes until it becomes golden brown.
The final part will be the sauted spinach: heat a frying pan and add the butter and the garlic clove, once the garlic has flavoured the oil, remove it and add the spinach and sauté until it wilts down.
Season it and enjoy!