Coconut tofu keema with cayenne pepper
Last Update : January 17, 2018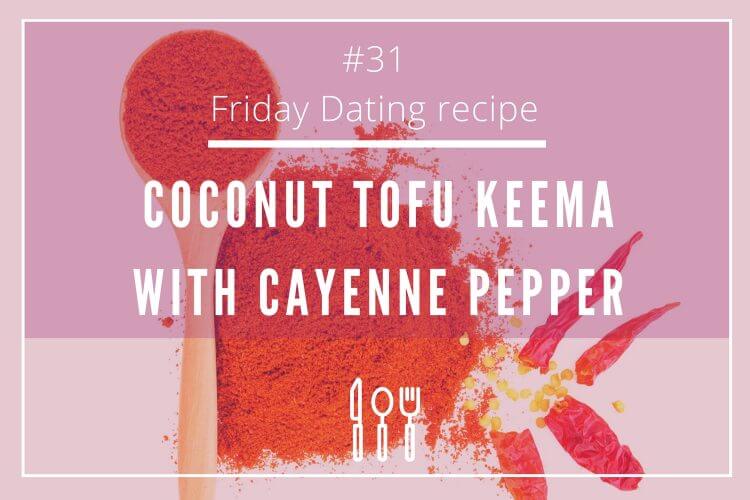 Check out all our Dating recipes!
Cayenne pepper, the ultimate aphrodisiac spicy
You won't need much to enjoy the benefits of cayenne pepper. This little although powerful spice knows how to heat up your body in just a second!
Cayenne peppers are known for the capacity to stimulate your metabolism and increase blood circulation.
Cayenne pepper contains capsaicin, the active ingredient responsible for the stimulation of your body, you'll feel hot, you'll feel sweaty and you'll feel with lots of energy… sensations very similar to the ones experienced during sex.
Spice up your date, bring cayenne pepper to your life.
A recipe for a cold spring date
This Indian recipe is a great idea if you're looking to spend a spring although cold date. Spring is an untrustworthy time when it comes to the weather.
This delicious recipe will help you to warm your bodies and get ready for romance…
Ingredients
2 tablespoons of olive oil
2 garlic cloves
1 small onion
1 package of tofu
1 can of coconut milk
¼ tablespoon of cumin
¼ tablespoon of curry powder
¼ tablespoon of cayenne pepper
¼ tablespoon of ginger powder
3 cups of tomato sauce
½ cups of peas and carrots
Rice
Preparation
In a large pan, heat the olive oil and fry the garlic, the onion and the tofu over a medium heat. Cover it and let it cook for 5 minutes, stirring occasionally.
Then, pour in the coconut milk and the spices and bring it to simmer.
Add the tomato paste and the peas and the carrot letting it simmer for another 30 minutes.
Prepare the rice on the side.
Enjoy!