Dating myth or reality? – People tend to look for highly attractive partners
Last Update : March 31, 2017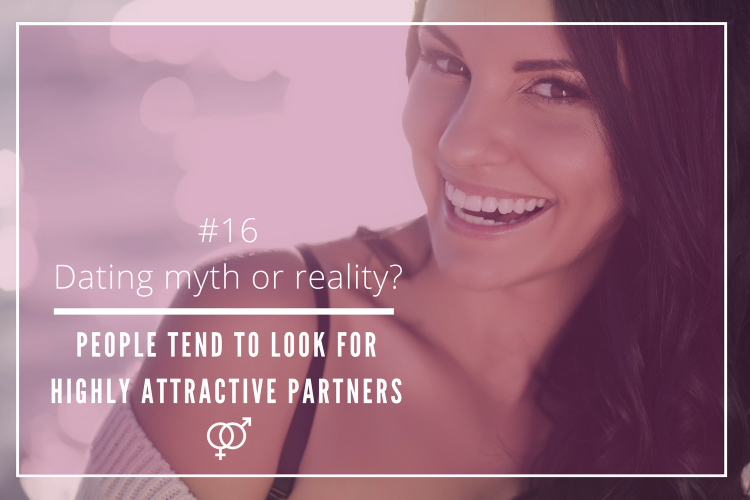 Having a good appearance has always been important to attract a potential date.
Nowadays, in the era of selfies and fake poses, it seems that the dating scene has gone to this extreme as well.
Matchmaking sites and apps like Tinder, with its profile swiping tool that works as a dating catalogue, encourage millennials singles to find a partner mainly considering physical attraction.
Most daters have seen these online dating tools as an opportunity to approach and flirt with highly attractive people without putting their pride at a risk or fearing rejection.
A question pops to mind: Do singles only interact with good-looking guys/girls, leaving other interesting traits behind, when seeking for a partner?
The dating hypothesis: People tend to look for highly attractive partners
Today, physical attraction is core when meeting a potential date.
A study published in 2007 by psychologists from the University of Pennsylvania where 10,000 speed daters where asked about their habits in the romantic field, revealed that being attracted to a date within seconds of meeting him/her determines if the story is going to have a future.
Most singles confessed that they just took a decision regarding a person's attraction within three seconds of meeting him/her.
Other studies have shown that having a great body attracts more singles. People who are overweight, according to one recent research, are seen as "less favourably" than those who are fit. Thus, those singles who are in good shape are more likely to get approached by others.
Men's perspective
Does this correspond to reality? It is true that most single men use online dating sites to get in touch with highly attractive women. At least they do so when they give these platforms a first try.
However, many of them in the long run end up bulk messaging women, regardless their appearance.
As we showed in our Tinder infographic, men 46% of time men swipe "Like" on a woman's profile.
Columnist and sex therapist Victoria Zdrock in her 2008 book "Dr. Z on Scoring: How to Pick Up, Seduce, and Hook Up with Hot Women" also reveals that stunning women tend to receive more visits, winks and messages on dating platforms than average-looking females.
Nevertheless, men are less keen to ask highly attractive women out because they feel intimidated by them.
In the end, they connect with women who they share interests with.
Women's perspective
Some modern single women may be after men who appear to be better looking than the average, but having a similar career or education background, a good job position and great salary (equal to theirs) is far more important for them as desired traits in a potential partner than physical appearance.
A study conducted by eHarmony in 2009 showed that men who stated in their profiles having a high income ($250,000) got more messages, in particular 156% more than those guys with a lower salary.
So, it seems that women currently expect to meet men who has the same professional/education level and equivalent high salary. If they appear to be more attractive than the average, then it is a bonus.
Dating myth or reality?
The looks still playing an important role when it comes to find the perfect partner. Feeling attracted to a date within the first seconds of meeting him/her is crucial to put or not an expiration date to the "story".
It is true that, as recent studies reflect, both men and women initially contact highly attractive singles on dating sites.
However, as they spend more time online looking for a partner, they change their mind and prefer to have a date with someone who is at the same intellectual and professional level.
Thus, the idea that people tend to only look for highly good-looking partners is somehow a dating myth!
*Photo by Nina Buday | ShutterStock.