Herbed Pomegranate Salsa, a romantic date at home
Last Update : March 6, 2017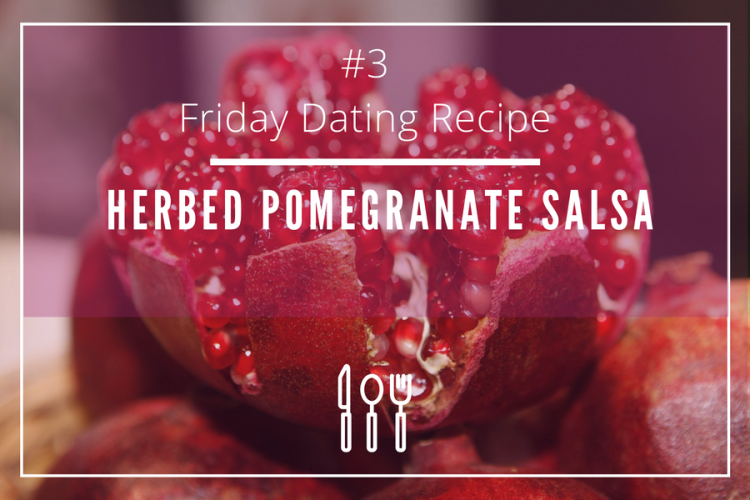 Pomegranate, a passionate fruit to create a deep conexion
This coloured fruit was already a culinary symbol of Aphrodite for the Ancient Greeks.
From Homer to Shakespeare this powerful red fruit, has been pictured in poetic works as a sensual symbol. It has been a great element to boost passionate connexion in a couple.
The pomegranate, with its bright gems enclosed in a thick rose husk is filled with antioxidants that help support and boost the blood flow. A great way to increase the room temperature if you are looking for an close and sensual romantic date at home.
Its stunning deep red gems increase testosterone levels both in women and men… Pomegranate is considered a natural viagra as it acts directlly on the hormone in charge of stimulating sexual appetite and romance, improving the mood reducing stress.
A fantastic way of spending quality time together while taking a step further in your relationship : a playful date at home.
This so-called « sex fruit » with a sweet and tart flavour, has also been a symbol in Christianity for hope and eternal life, as with all its antioxidant properties it helps fighting hearft disease, cancer and improve blood circulation.
If you want to feel the oxigen circulating through your veins, raise the pumping of your heart and blush sensually, pomegranate is your fruit.
A Recipe for a light dinner and a playful date
This refreshing and invigorating recipe will only take about 20 minutes to prepare, although you will have to let it cool in the fridge for about 2 hours for better results.
A perfect recipe to complement with a cool nice white wine that will boost your energy, blood circulation and romantic feelings ! It is a light dinner that won't make you feel tired or sleepy after eating, on the contrary you will feel activated, full of energy and romantically playful.
Ingredients
1 and a half sprigs of fresh mint (chopped)
1 and a half bunches of fresh cilatro (chopped)
1 and a half bunches of parsley (chopped)
1 small red onion, finely chopped
1 pomegranate (with the skin and the membrane removed)
6 tablespoons of fresh lime juice
2 teaspoons of lime zest
1 serrano pepper (chopped)
1 small tomato (diced)
2 tablespoons of olive oil
Seasoning (salt and pepper)
Preparation
Once you have chopped the mint, cilantro, parsley and onion, toss it together in a bowl with the line juice and the lime zest, pomegranate.
Add the serrano pepper, diced toamte and olive oil.
Season it with salt and pepper and cover the bowl.
Let it chill in the fridge for about 2 hours before serving.